Chris Hemsworth (Thor, Love and Thunder), Millie Bobby Brown (Stranger Things), and Ricky Gervais (Paws of Fury: The Legend of Hank) are three hot celebrities that are now household names with an undeniable impact on popular culture. It's hard to imagine that there was a time when they almost gave up everything right before hitting their big break. Here's what we can learn from them on how to deal with rejection and disappointment while chasing their dreams and success.
Chris Hemsworth (Thor, Love and Thunder)
Image Credit: Marvel Studios

In 2021, Chris Hemsworth, now one of Hollywood's hottest A-List actors, shared in an Australian Men's Health interview, that he had landed the role of Captain Kirk's Father in Star Trek (2009), but was not successfully landing any other roles after going for audition after audition. He was wracked with anxiety which impacted his performance during auditions, and he contemplated leaving everything he worked so hard for behind.
"I was about to quit. I got more and more anxious to the point where I couldn't harness or use that energy. It was all to my detriment."
He persisted in taking one final audition in late 2008, for the lead role of Curt in The Cabin in the Woods. It was his turning point. He secured the part and landed the role of Thor in The Avengers film series shortly after ending that project.
These days, Chris Hemsworth has found a way to use his anxiety as a motivator instead of looking at it as a threat by acknowledging his anxiety instead of convincing himself that he wasn't.
"I was trying to convince myself that I wasn't nervous before auditions rather than grabbing hold of it and going, 'Use it, raise up the awareness here, sharpen your focus, point it in the right direction."
Millie Bobby Brown (Stranger Things)
Image Credit: The Tonight Show Starring Jimmy Fallon

Not just a prolific actress, but an entrepreneur behind the skincare brand, florence by mills, Mille Bobby Brown, had to come to terms with rejection while auditioning for commercials and roles that she really wanted, and find a way to shift her mindset in the face of brutal and constant rejection.
As a guest on The Tonight Show with Jimmy Fallon, Millie Bobby Brown shared openly about her experience with rejection, "This industry is just full of rejection, 24/7. You get far more noes — a lot of noes — before you get a yes. I was auditioning for commercials, for anything, really, I then auditioned for 'Game of Thrones and I got a 'no' for that. Then that's kind of when I was like, 'Oh, this is really difficult,' because I guess I really wanted that role. I think I was just very disheartened by the rejection, which is something that I tell everyone, is like, this industry is…just full of rejection."
While she is a talented actress recognised for her acting chops today, it's hard to imagine that she almost left the industry after not getting the role of plucky Lyanna Mormont in the hit fantasy series, Game of Thrones. Thankfully for her, she found a way to move past failure and gave one fateful last audition a go. It was a show with the working title, "Montauk" by Netflix. This became the huge Netflix sci-fi fantasy hit, "Stranger Things".
"Montauk was definitely the one that kind of gave me that hope of doing it all again."
Ricky Gervais (Paws of Fury: The Legend of Hank)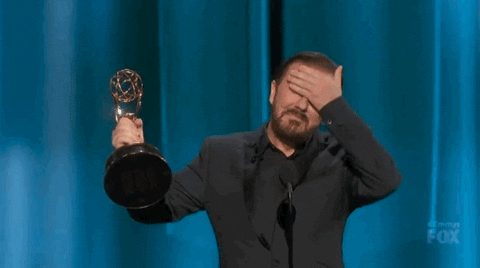 Image Credit: FOX TV

The British funnyman, Ricky Gervais, started out with dreams of becoming anything but a comedian and eventually learned to adapt and commit to whatever he was doing.
"I didn't want to be a comedian, I wanted to be a pop star. I realized that I shouldn't have wanted to be a pop star, I should have wanted to be a musician. So when I got a second bite of the cherry, I didn't want to be a celebrity, I wanted to be a writer and director. And then you realize that's all there is."
With the success of the original British version of "The Office", he learned a huge lesson and shared in an interview, "The biggest turning point about it was not just finding something I was good at and that I loved, but much bigger than that; it was the first thing I'd ever tried my hardest at. And that shouldn't be a revelation at age 40, but there you go."
What Can We Learn From Their Stories?
Dealing with rejection requires that we look inward and reflect on our mindsets, check to see if we're on the path of growth, and learn to cope with feelings of disappointment.
All three celebrities, Chris Hemsworth, Millie Bobby Brown, and Ricky Gervais, are talented and hard working, but even then, it took them many rejections and hits to their self-confidence, before they were truly recognised worldwide.
What looks like an overnight success, was actually years of failure and small wins,  before they got their big break. What looks like luck, was actually their ability to keep taking the driver's seat in creating their own destinies. Now knowing their stories, how will you create your own destiny in your own journey toward your dreams?
Check out these tips to build resilience:
Read these stories of some incredible women who have defied all odds to succeed.