If you've been on Tik Tok, you might have come across the viral "Teenage Dirtbag" trend which features the 2000s hit of the same name by rock band Wheatus. The massively popular trend has even clocked up 7.1 million views on Tik Tok at the time of writing and even gotten the attention of multiple celebrities who have done their own takes!
What is the Teenage Dirtbag Trend about?
In this trend, people share a photo compilation of their past "Dirtbag era". Typically these are embarrassing or awkward photos from their younger years synced to the chorus of "Teenage Dirtbag". It has become a huge hit with celebrities with many joining in to share snippets of their past which they now remember fondly with humour, years in the future.
We take a closer look at 4 celebrities and their rendition of the "Teenage Dirtbag" trend while looking back at the challenges they have gone through, and find out how they look at their younger selves in their dirtbag era.
Demi Lovato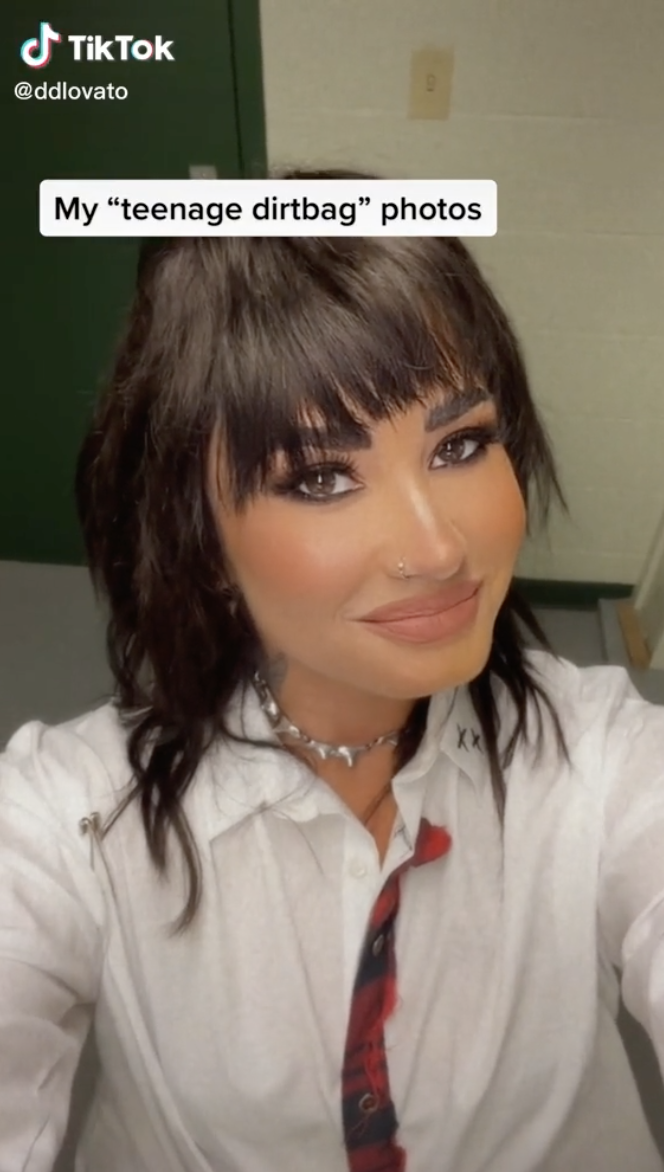 Image Credit: Demi Lovato's Tik Tok
Demi Lovato, former Disney Star turned pop icon, shared her take on the Teenage Dirtbag trend which features a series of photos of herself with eyes thickly rimmed with black eyeliner, long scraggly hair, and scruffy bangs, rocking on a guitar at a performance around the time she released her rock inspired albums, "Don't Forget" and "Here We Go Again".
Demi has never shied away from sharing publicly about her struggles, seeing it as a way to help others navigate their own problems. In 2009, Demi was found self-harming and a year later she had her first stint in rehab which she opened up about in a YouTube original documentary.
In an interview with 8 Days in 2017, she revealed how she views her past struggles and self, "The person that I am today has been moulded from my past experiences, but I don't let those past experiences determine the person that I am today. It doesn't define me, and I think that there's a difference. I think that it comes with growth and maturity. I think that it comes with understanding and lots of wisdom."
Most recently this year in an interview with People Magazine, the singer-songwriter admits that at the time of her filming the documentaries she has done, she hadn't yet "figured it out". She was quoted saying, "My story's not done, so I want to be able to say by the time I've written a book, 'OK, this is me grown up".
Growth is indeed a never-ending journey. Like Demi has discovered, perspectives will continue to change with time. As we accumulate more life experiences and work through our issues with growing self-awareness, we will find the way we look back on our past will change. It's okay to wish we had known better, while still acknowledging and accepting the steps it took for us to get to where we are today.
Jennifer Garner
Image Credit: Jennifer Garner's Tik Tok
Jennifer Garner of 13 Going on 30, Elektra, and most recently, Yes Day, shares a series of goofy throwback childhood photos in her rendition of the "Teenage Dirtbag". She's shown in baggy clothes, playing the saxophone, doing ballet, and has on the brightest smiles. She even candidly appears cross-eyed in one frame!
It might come as a surprise, especially after seeing those happy childhood photos, but Jennifer, one of the most down-to-earth Hollywood actresses known for her wholesomeness, quick wit and humour, grew up in poverty in West Virginia, a state that she said was, "the bottom of the barrel in education and upward mobility and health."
Reflecting on her growing-up years and how her parent's resilience in the face of poverty influenced her outlook on life in an interview with Kelly Corrigan, she shared that despite the challenging environment, she grew up surrounded by people who looked after their neighbours and took care of themselves. To that, she said, "I have such a deep pride to be of and from that stock."
She is proud of her parent's journey and her own and can look back fondly and embrace her growing-up years.
Mark Ruffalo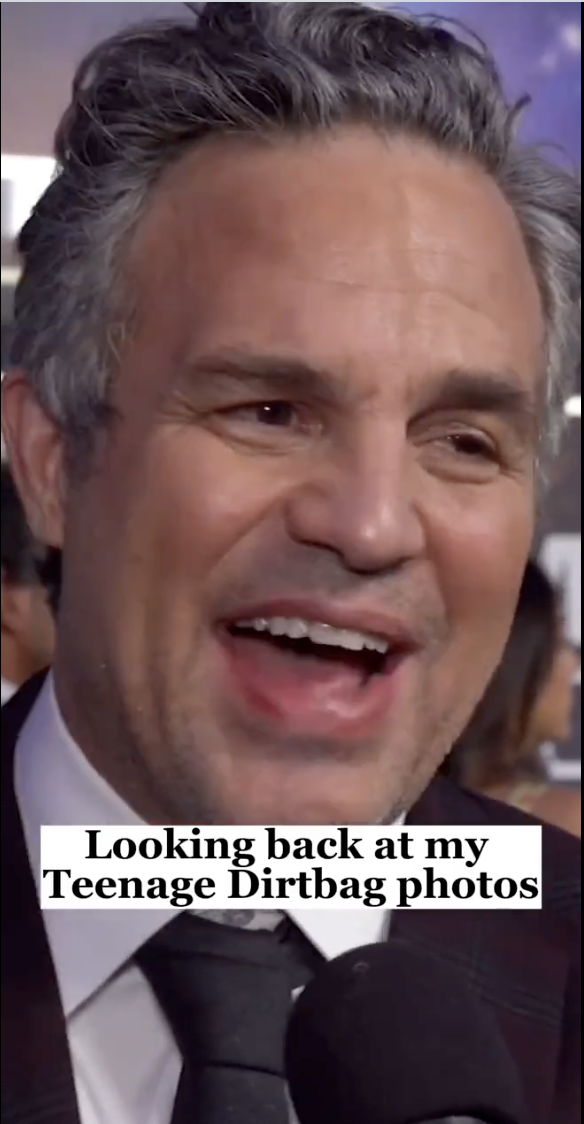 Image Credit: Mark Ruffalo's Twitter
Mark Ruffalo, best known for portraying Marvel's Bruce Banner and The Hulk, hops onto the "Teenage Dirtbag" trend with a mix of dorky photos of himself in high school and a few of him in his early days of acting. He captioned the video "Whoa, those were the days".
It's easy to look at Mark now and think that he's got it all together. After all, he is one of the most recognisable stars today in Hollywood and has reprised his role of The Hulk multiple times across Marvel Cinematic Universe movies. Furthermore, he is a humanitarian and actively supports environmental causes. However, he has opened up in multiple interviews that he has struggled with dysthymia, a low-grade depression, his entire life alongside ADHD and dyslexia, which altogether made him feel like he didn't belong.
In an interview with Parade, he opened up, "I was miserable. This sounds sappy, but I was always aware of the frailty of human beings, the sorrow in the nature of things. I didn't know how to live in the world, how to cope. I felt like I didn't belong."
In 1994, the suicide of his best friend, Michael, got Mark to face his demons through his experience with grief, "He was the only one I knew as sad as me who I could talk to. When he died, it rocked me out of a dark depression. The moment he left, I realized that death wasn't an escape, that suicide wasn't an answer. I understood the value of life. Acting became my way of addressing it."
Mark's take on the "Teenage Dirtbag" trend feels light. He's able to look back at the good old days, even though some of those days were difficult and heavy for him to bear as he moves forward and continues to reflect and look for the lessons that come with every 'curse'.
What Can We Learn From Their Stories?
With time, our perspective on a specific period of our life begins to open up and it keeps opening up as we revisit it from different points of our lives. What feels troubling and seems like an insurmountable challenge in our younger days, can be overcome, so long as we continue living, experiencing, and growing. We may even view things from our past differently the more we reflect and accept ourselves for who we are and the unique paths we have to lead.
It is okay to have a past we are ashamed of or regret something from a time of our life, but we can also approach the past as a teacher to help us continue to uncover and learn something new about ourselves, allowing us to keep adapting to our life's challenges.
It's ok to feel dumb some times. Your future self will have you looking back at these moments with fondness and knowing how far you've come.
Your way out of that teenage dirtbag starts here:
Have a growth mindset and see how far you've come
Have a laugh about those moment