Can you imagine working with the same people for 15 years? That's practically a whole lifetime for some of us! The Soshi girls did just that, and they've built a super tight-knit support group for each other and their loyal fans (including me)!
But when you're toiling away in the limelight for 15 years, it's easy to forget about caring and loving yourself when you're busy. So to celebrate their reunion and comeback, we're sharing 15 things and tips we love about Soshi.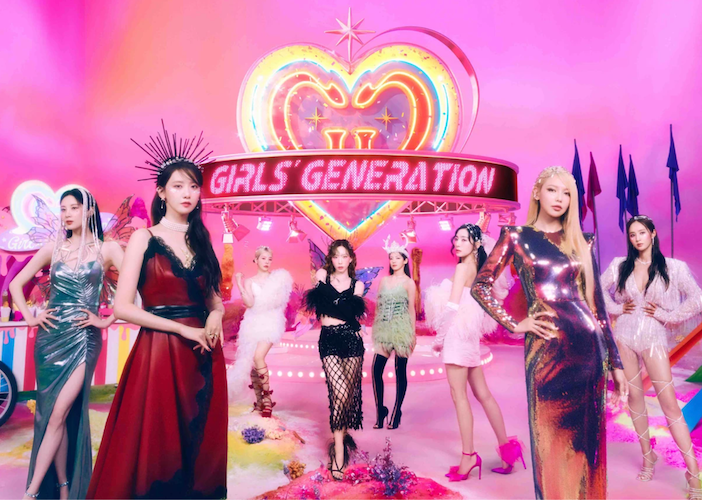 1. Hyoyeon's free-spirit attitude
She adopts a relatively carefree approach to stay sane. Hyoyeon's signature pop-and-lock dance moves will always hit the note, but she never lets others' comments hit her heart. As she says so herself, "Say whatever you want. I won't cross the line because I have a clear view inside of me".
2. Taeyeon being real
Mental health can be tricky to understand or even express to others. But Taeyeon didn't try to hide her depression. In an impromptu IG stories session, she revealed how she wasn't doing too well and stayed in a slump. But unfortunately, some saw her candid comments as rude and disrespectful, while others shared their plight.
Managing depression is complex, and no one has to do this alone. If you need help, you can get help here. 
3. Sunny prioritising health over wealth
She has previously left her MC role due to an injured knee, which led to Soshi fans being worried! Instead of pushing forward with work like she used to, she chose to prioritise recovery this time. With her immense love for her fans, she reassured them that she's doing what's necessary and healthy for herself and hopes for the same for everyone.
4. Team hiatus for a happier Soshi
Sometimes getting better means being apart. For this team, they took a 5-year hiatus after their 10th year together. This separation led to plenty of tears and heartache amongst the team members. However, this gap gave them time to pause, grow as individuals and focus on self-care.
5. YoonA's personal growth
She sings, dances, acts and… bakes? The hiatus gave Yoona plenty of opportunities to grow as an entertainer, and she's now an acclaimed actress. So why did she end up baking? To relieve stress! By picking up hobbies unrelated to her work and enjoying the patient process of baking bread and pastries, she's been able to let go of stress better than ever.
6. Their thankful hearts
Their bittersweet separation of 5 years left these women in tears as they looked forward to reinventing themselves as individuals. Girls' Generation thanked their fans at their reunion for staying beside them throughout their extensive careers. There is no doubt GG loves their fans, and the feelings are reciprocated.
7. A group that works together stays together
Their long-awaited comeback was cancelled, much to the team and their fans' disappointment, as Seohyun caught COVID-19. Instead of going ahead without Seohyun, the group decided to cancel their comeback while the maknae recovered in peace.
8. Support beyond contracts
Although Seohyun, Tiffany and Sooyoung are no longer with SM, the love they received during SMTOWN Live 2022 was no less than the rest. The founder of SM Entertainment and Girls' Generation originator, Lee Soo Man, hugged the girls tightly after their performance. This shows the love and support they have for each other beyond contracts. Can you spot the most emotional member in the SMTOWN photo?
9. Yuri's hilarious faux pas
The point above brings us to…. Yuri! In the 2nd episode of Soshi Tamtam, Yuri mistook actor Kim Young Chul for none other than Lee Soo Man. The team's ability to laugh at each other is one of the reasons why it's easy to fall in love with them.
10. YoonA's generous heart
How did this get revealed? Thanks to TWICE Chaeyeong! She shared a memory of YoonA and herself going to the same salon and same restaurant after. When they bumped into each other in the restaurant, YoonA secretly paid Chaeyeong's bill before leaving.
11. Tiffany maturing through self-work
we've heard about self-care and self-love, but what about self-work? From a 15-year-old newbie to a confident, vocal woman today, Tiffany has come a long way through plenty of self-work. Therapy,  daily meditation and self-reflection are her go-to's to maintain a healthy, peaceful mind. As said by Tiffany, a positive mind comes from prioritising mental health and love from her Young Ones. Psst! You wouldn't be able to tell, but Tiffany used to suffer from anxiety and depression.
12. Sooyoung and therapy
Normalising therapy through a casual conversation with YoonA, Sooyoung said her therapist previously told her, "if you're stuck in time, you're stuck in high school". This experience is unfortunately common amongst idols as they debut in their early teens in a highly controlled environment. So our idols miss important events like class outings and education while they undergo daily vocal and dance training.
13. Eternal gratitude for their dorm imo!
In their early days, the group lived together in a dorm. In Soshi Tamtam, they reminisced how their mother-like auntie cooked and cleaned for them. On days when one ate alone, Auntie would sit with them, ask how they were and give them encouragement. After most of them moved out, everyone except the one who still lives with her remembered the taste of Auntie's kimbap.
14. Yuri's mommy-like care for others
In Yuri's variety debut, Yuri demonstrated her strength to carry the team, especially when it came to a trio of two men and herself. In her latest venture, Yuri joins Lee Gwang-Soo and Yu Jae-suk in The Zone: Survival Mission. This is where her spirit of perseverance pushes her team to victory. As said by Gwang-Soo, "she really took care of me, and I didn't give up because of her".
15. Lastly, their comedic angel poses
Behind their angelic voices and sleek dance moves, Girls' Generation is a bunch of comedic women who aren't afraid to laugh at themselves or each other. So at their latest comeback stage, they each had a go at landing the angel pose, where the live show camera zooms in on an artist.
Here're the links we've gathered so you can rock it like Soshi!
Self-work begins with self-care
Building and owning your confidence
Growth mindset for one and all
Laughter is the best medicine.
Image credit: SM Entertainment, @yoona_lim, OSEN,Disney