Twelve Carat Toothache, Post Malone's latest album is on top of the charts again. Well, we are not surprised by that! But what is surprising is what Malone shared recently in several interviews. Not caring about being No 1? That's something for fans to wonder about.
Behaving differently
When someone you know behaves differently, it's always good to pause and try to find out what is causing the change in behavior. A sudden lack of enthusiasm can be a sign that something is not going too well with that person. We are concerned because Post Malone has been struggling with mental health conditions since his school days.
"Middle school, I would cry myself to sleep everyday…High school, the same thing. I tried to drink some beers to get rid of that ***, but it just never goes away. And I don't think that's anybody's fault; it has to do with something predisposed in you."
Stress and Burnout
In a recent interview Malone told 'Billboard' that he was facing burnout and has been having anxiety attacks
"You think about everything at the same time, and it's ****ing overload. There's a lot riding on the music. There's a lot riding on just being able to keep making songs. And that's hard to do because you're like, '**** — I already talked about everything.' And you kind of run out of ideas, and that's scary s***"
On top of that he said staying at No.1 is not that important anymore. Despite his latest album 'Twelve Carat Toothache' debuting at No. 2!
"Trying to shove 20 to 25 songs, it doesn't work. Talking to the label [it's like], 'Oh, if you have less songs, you're not going to stream as much,' but the whole thing is that you don't want to compromise your art and your gut vibe on anything. I've made a lot of compromises, especially musically, but now I don't feel like I want to anymore. I don't need a No. 1; that doesn't matter to me no more, and at a point, it did."
If your friend said something like that, it would be good to check-in with that person to find out what's wrong. Stress and burnout can lead to other symptoms such as anxiety and depression. In prolonged, unmanaged situations, some people can start thinking of suicide. Please get that friend to seek help immediately when you find out that they are in that situation.
For better or worse?
However, for Malone, it does seem to look like a positive change. Recently, he mentioned in an interview with ShotsStudio that he decided to quit smoking Weed as he was experiencing de-personalization. He felt like he was watching his life like watching a movie and he did not like it that he was not living his life but only watching it happen from a distance. He also mentioned that he felt like 'Shit' when he smoked, like he was having a heart attack. That made him decide to quit.
So maybe, Post Malone is going through some positive change in his life. Our wish is that he really gets to do what he really needs to.
"I just want to relax and enjoy the simple things. Be like a kid again. Have no responsibilities and everything is handled: your kids, your family, everybody is set and doesn't need to worry, so you can just play games and play in the tall grass."
Here's some information to help you help your friends
How do I start a chat with a friend that I'm concerned about?
How to help a friend who is suicidal. 
How do I know how serious it is? 
If you or your friend is having suicidal thoughts, please get help immediately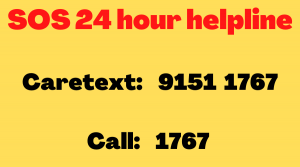 Here are other Singapore Helplines