Have you ever been in a situation where you were really ticked off by offensive people?
Picture sitting at a social gathering or with some friends and someone nearby lets out a rude comment.
"This isn't what I ordered… ( screaming at the waiter) Are you deaf?"
or
"Wah, so fat and wearing something so revealing!"
or
" Why are you behaving so dumb, do you have mental problems?
Yes, those words do reveal a glaringly obvious flaw in the offensive person's personality.
Now, what do you do?
Photo via @soupytime on TikTok
The Tiktok trend
In this TikTok video format, people use the sound that narrates the following thought in your head:
"Okay, I don't like this conversation or this person, but I feel like I'm hiding it pretty well though. Thank God."
And then, a split second video reveals the user's thinly-veiled disgust. The facial expressions of TikTok users of this sound have allowed viewers to feel, in a big way, seen.
The real life experience
No one wants to sit through and tolerate people they don't like. But what if this was a friend of a friend? A sibling of a best friend? A partner of a sibling? A distant relative during a reunion?
Yiks, what do we do? Put our personal grievances aside and put on our best poker face during a social situation?
In these moments, excusing yourself from the table or looking at them with horror in your eyes could send some signals about their unkind behavior.
Photo via @soupytime on TikTok. 
Whether in a real-life social setting or in social media, we will meet unbecoming behavior that deserves to be called-out. What is calling-out and is there another way?
There are actually different ways to approach such a situation.
Calling-out
Calling-out is to bring to public attention, the harmful words or behavior of an individual, group or organisation.
Often calling-in is a harsh, public rebuttal to stop micro-aggression and hurtful behavior
A more compassionate approach is Calling-in, which is to have a serious conversation to friends who are displaying negative and harmful behavior.
Calling -in
Calling-in is to bring attention to the harmful words and behavior of people, groups of organisations,  that are biased, prejudiced and discriminatory in a private setting.
Here's how you decide whether to call-out or call-in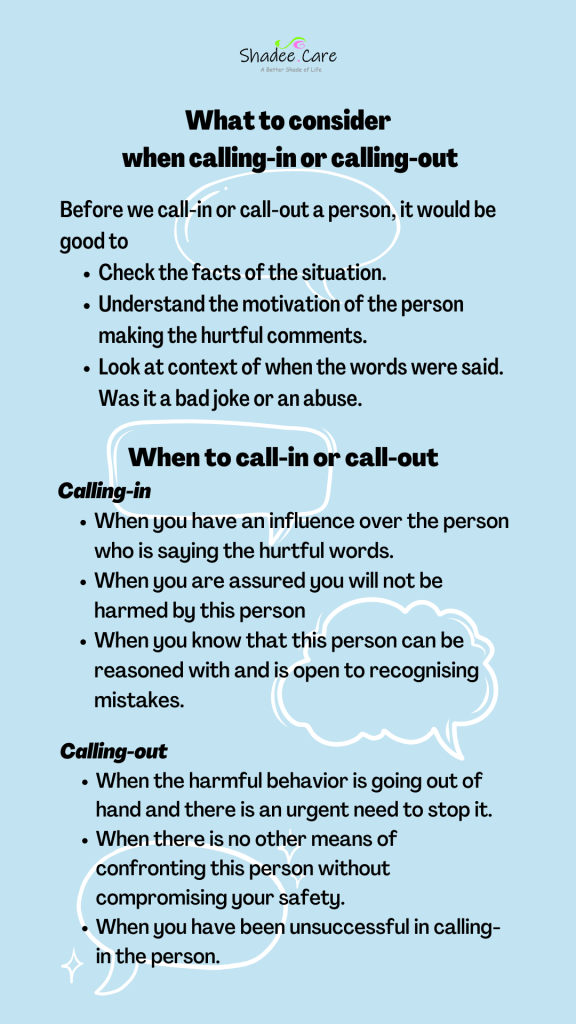 Here more on how to deal with tricky social media situations:
Keeping boundaries to keep yourself safe