The Flash, Warner Bros latest movie version of the superhero, almost never made it to the big screen.
Ezra Miller is finally getting therapy
In recent years, between 2020 to 2022, Ezra Miller's behavior had become extreme and was arrested for harassment at some nightspot and fined for disorderly conduct. There have also been many other accusations against Miller for assault, grooming of minors and burglary, having stolen alcohol from the homes he trespassed.
The problem, however, did not start recently. Miller was caught in possession of Marijuana in 2011, the year before he rose to fame in 'The Perks of Being a Wallflower'.  The courts dismissed the drug charges and issued him with disorderly conducts.
Although it has been a decade since his addiction problem started, we are glad that Miller is finally getting the help that he needs. He recently regretted his actions and said:
"Having recently gone through a time of intense crisis, I now understand that I am suffering complex mental health issues and have begun ongoing treatment,"
"I want to apologize to everyone that I have alarmed and upset with my past behavior. I am committed to doing the necessary work to get back to a healthy, safe and productive stage in my life,"
Image via the official DC website
Grant Gustin and the benefits of early intervention and therapy
Grant Gustin has been coping with decades of painstaking recovery. When being 'the fastest man alive' is not in our stars, how can we cope with long-term mental wellness without wearing out?
The face of The Flash has struggled with anxiety and depression since he was four or five years old. Additionally, over the years he developed imposter's syndrome where he felt unworthy of his achievements despite putting in hard work and displaying grit.
Promotional Picture for The Flash Season 1
Photo via The CW Network
Grant and his lifelong experience with anxiety 
Grant Gustin played 'Flash' for nine years in The CW Network TV series. For someone who carries themselves so professionally and confidently, Grant Gustin would not be suspected to struggle with as much as he has.
In an episode of the podcast 'Inside Of You with Michael Rosenbaum', Grant shared about his extensive experience with anxiety and how it has affected various parts of his life. His personal relationships and career have been impacted.
He almost skipped the audition for his now-distinguished role of 'The Flash' due to his performance-induced anxiety and insecurities related to his profession.
"I didn't want to go at all because I thought it was so irrational to think that I could book it," admitted Grant.
Image via Inside Of You Podcast YouTube account
Function of therapy: Preventative vs Curing
Grant shared about how therapy has benefitted him and his partner. Therapy is often perceived solely as treatment for severe disorders. However, the actor explains that he attended couple's therapy with his partner before getting married. This allowed the couple to reflect on and deepen their understanding of each other before entering a serious, lasting commitment.
Grant and his wife
Photo via People

You are not alone even if it feels like it
In another podcast 'Man Enough' by Wayfarer Studios, Grant shared about his experience suffering through anxious thoughts and feeling like he has to work through them by himself.
"I tend to put walls up… If I'm on set, and I'm really stressed and overwhelmed, nobody is feeling what I'm feeling or can understand what's going on with me… I would recommend therapy, any kind of therapy for anybody for sure."
Self-soothing and self-help methods tend to slip our minds when encountering triggers. Grant shares that therapy helps him to dissect and categorise his muddled thoughts when he is unable.
"I knew I had always dealt with anxiety but getting pinpointed ideas about where things started and why (I was) feeling that way (helped)."
GIF via Tenor
Early intervention 
Is it truly better late than never? When it comes to therapy, we say yes.
According to a pilot evaluation on early intervention by Morgan and other authors, therapy's main function is to equip clients with tools. Tools like self-regulation during stressful situations or resilience in enduring times of difficulty.
Sometimes, therapists serve to provide patients with a listening ear.
The main advantage of seeking therapy early on is similar to the significance of providing medicine to a wound sooner rather than later.
"Every one of us is running. Being alive means running. Running from something, running to something or someone. And no matter how fast you are, there are just some things you can't outrun." – Barry Allen, The Flash.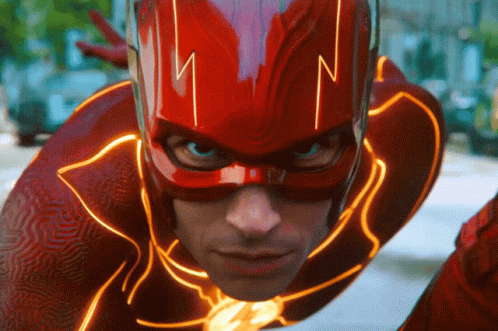 GIF via Tenor
Therapy can be an option, whenever you are ready
Nevertheless, be it preventative, early intervention or intervention long after a traumatic event, therapy has proven to be extensively beneficial according to Hawke and authors. Some observed benefits include reduction in symptom severity, remission and even repair on a micro-biological level.
Though overwhelming and intimidating at first, therapy might be an option to consider.
There are tons of alternative forms of therapies offered today that may help you in a personalised way. More traditional models include Cognitive Behavioural Therapy while newer models include Art Therapy, Pet Therapy and Music Therapy.
All versions of The Flash, Image via SL Made: The Flash
Here's more on:
Where to get therapy