UK Chart topper for 2019 and 2020, Lewis Capaldi, is an eccentric true-blue Gen Z star. With his hilarious Instagram feed personality and viral talk show interviews, one would assume he would have a strong self-esteem and sense of self.
Lewis Capaldi
Photo via Daily Record

But at the young age of 22 (in 2019) and overnight fame for 'Someone You Loved' and 'Before You Go', he shot into the spotlight and his demanding career. Capaldi had to struggle with anxiety, Tourettes, self-esteem issues, a harmful work environment, and grief while performing live to thousands.
His new documentary, How I'm Feeling Now, is named after his new album. It is the focus of the entire documentary, but the story runs deeper than his professional success.
Playing the Comedian
'Someone You Loved' was number one song of the year at the BRIT Awards 2020.
Lewis Capaldi acceptance speech at BRIT Awards 2020
Photo via The Mirror

His acceptance speech contained stutters, hard shoulder shrugs, and panting. But he was spouting jokes throughout his time on stage. His symptoms do not go unnoticed.
"The darkness comes over the happy, chappy guy and manifests itself in all the tics, the anxiety," says Lewis' father, Mark.
"(Lewis) is not just the comedian that we all think he is," says Lewis' mother Carol.
Fame and Self-Esteem
Lewis Capaldi performing live
Photo via The Guardian

"I'm not confident in my abilities as a songwriter. And I think it's gotten worse the more successful I've gotten. I love (my job) but I don't get why people will come and listen to my music," says Lewis.
One of the causes for his low self-esteem is:
Imposters Syndrome
Even after receiving an encouraging email from Elton John and a heart-to-heart with Ed Sheeran, Lewis Capaldi's inner doubts are unmoving.
Lewis Capaldi and Ed Sheeran
Photo via Daily Record
Lewis Capaldi and Elton John
Photo via Elton John's Twitter Page

"I mean it's nice to hear (compliments and reassurance) but I obviously still feel a bit like an impostor. I don't think it's ever going to go away. I think you can have (impostors syndrome) at any level (of success or fame). That bleeds into every single decision you make and everything you do."
He describes his desires, hopes and dreams as 'goalposts'.
"Goalposts are always changing. You don't ever enjoy something because you're (immediately changing your focus to) the next thing."
Tourette's and Dismissing Symptoms
Mark and Carol Capaldi were not oblivious to their son's symptomatic behaviour.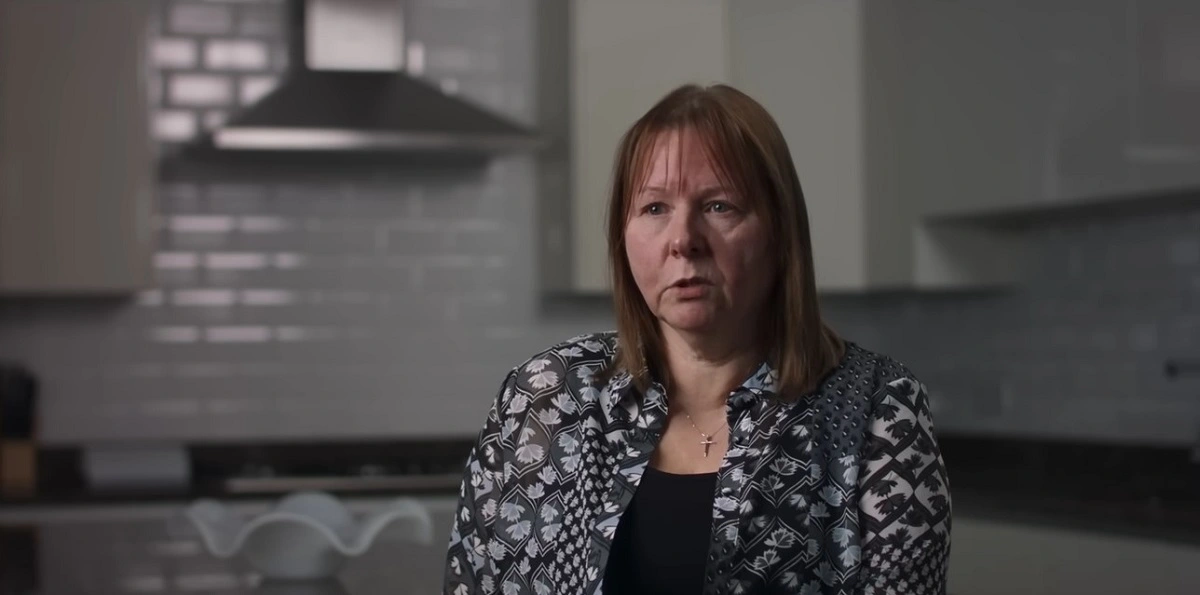 Carol Capaldi (Mother)
Photo via Cinemaholic

All through primary school, the world-famous musician told his mother he had a brain tumour. Before that, around 4 or 5 years old, he had uncontrollable physical tics like blinking and verbal tics like "Mm Mm Mm".
Lewis self-identified as a hypochondriac his entire life, but beyond this, he was struggling with undiagnosed nervous system and behavioural disorders.
Mark Capaldi (Father)
Photo via Cinemaholic

In a tense conversation between Lewis and his parents, they bring up their concerns about Lewis brushing off his symptoms.
"I thought you were going to do something about (the twitching)… How do you get rid of it? How are you dealing with it?" His father seems deeply concerned while berating Lewis.
"It comes and goes. It's part of life, brother. Get used to it," Lewis retorts before walking out of the room.
Lewis Capaldi with Ryan Walter
Photo via Music Business Worldwide

This happens in another conversation between Lewis and his manager and friend, Ryan Walter.
"I find it very difficult to watch you (anxious on stage). You can't (keep ignoring it). You're in pain because of that."
Time Aside to Get Better 
Lewis shares that he "feels like I'm in a race against the clock to get my mental health in order."
'How I'm Feeling Now' album cover
Photo via Music Talkers

He took a 4 month break from writing and producing after having to halt a performance because he was in too much physical pain to carry on. To most, 4 months is not too long a time. To Lewis, it felt like forever.
"But the onus is on me to (recover)… And I know that, in myself, I can do it"
"I'm doing stuff even when I feel good, rather than just waiting until I feel (bad). There are still days when it's a pain, but for the most part, it's a much more manageable thing."
Photo via BBC

While the recent cancellation of South East Asia tours may be disappointing to some, our takeaway is learning that it's OK to do that hard stuff, like taking a break so that you can come back stronger.
If you are feeling not quite yourself and don't know what to do, try this mood check and get the help that you need