Though a trainee and yet to debut, Beomhan has already captured the hearts of many fans in his live-streams. Authentic, lively and a total crack-head, his live-streams show not just his spontaneous self but also someone who genuinely cares about his fans. But his journey as a trainee has been speckled with hardship.
We do not know the details of Beomhan's mental disorder and we are not attempting to diagnose his condition. The following is a discussion of what we think could contribute to a person's mental 'breakdown'.
The onset of a mental disorder may be caused by either a major stressor such as the sudden lost of a loved one, or multiple micro stressors piling on a person causing that person's coping resources to be depleted.
Pressure to succeed
The road to Kpop stardom can be brutal. Countless drop out or are let-off along the way and never debut, and many have fallen victim to the emotional rollar-coaster. Sounds familiar, that same fear translates easily to those of us striving for academic or work achievements.
While groups like BTS has inspired many, their shoes are often too big if not impossible to fit in. Beomhan must have felt this way as he shared in one of his live-streams that he was over the moon when a lady passed him by along the street and mistakenly thought he was BTS.
"I didn't want to disappoint her that I am only Beomhan".
Just like Beomhan, perhaps some of us have the same self-deprecating thoughts because we feel that we cannot meet those big expectations.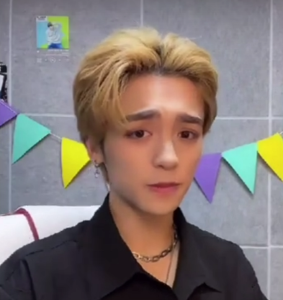 Trauma
Last year, in a promotional tour to New York, Beonghan was physically assaulted by a homeless man in the subway. He showed the marks on his neck as he was choked by that man. That man was intimidating Beomhan with racial slurs and went violent when Beomhan did not respond. Although sounding his usual cheerful self as he shared the story, such an incident can be very traumatising.
Trauma can be a major stressor. When undealt with, it can creep up when we are least prepared to handle it. It's important to acknowledge situations that we find disturbing at the very onset, process it and find helpful ways of coping if not overcoming.  Trauma that is not dealt with can develop into Post Traumatic Stress Disorder.
Depression
We love Beomhan for his exuberance and awesome sense of humour. So it's almost hard to imagine that beneath that cheerful front is someone that is suffering so much. But we appreciate his courage to be totally transparent about what he is going through and sharing about his struggle with his mental health.
"The last time I went to the Psychiatrist, I was hit by the big D word. There is the suspicion that I am mentally ill… So I'm going again. They will talk to me, that would be fun."
While some may consider this to be trauma dumping, we think Beonghan's sharing does help those in the same struggles to feel less alone. He has been very responsible in asking his fans to 'leave' before he started to share possibly traumatising information. Not many people would be willing to be so vulnerable publicly and we appreciate his honesty on his live-stream as he shared a very private experience.
Please stop reading at this point if you find it disturbing to read about depressive thoughts and suicidal ideation
First step to recovery
In his live-stream, Beomhan shared that he went to see a therapist told about his thoughts of wanting to end his life last year. He also shared about his confusion with what his therapist said to him.
"I had an attempt in July or Aug and didn't work. And then I was telling my therapist about it. She said to me like it feels you couldn't do it back then, and even though you couldn't do it you still feel dead. Why do you say that."
While therapy is necessary for a person struggling very hard to keep mentally afloat, it can also be a very confusing and unsettling experience in the beginning. Going deep into our own untold fears can trigger a lot of emotions and make us feel very vulnerable. But to heal, that is sometimes necessary before we can start to work on recovery. A good therapist will know how to close the wounds before a client leaves the session.
Beomhan did add that the Therapist was "kinda sweet". However, he decided to see a Psychiatrist after that.
Difference between a Psychotherapist and Psychiatrist
A Psychotherapist is a person who engages in talk therapy and other non-medical forms of intervention to help a person recover from psychological issues. A Psychiatrist is a doctor that is qualified to prescribe medicine to help with biological issues causing mental disorder.
Mental disorder is a heterogeneous disease, meaning that there are many factors involved. While there may be some common symptoms in each classification of mental disorder, different people may experience mental disorder in different ways even with the same diagnosis. So for example, a person with anxiety problems may manifest different symptoms, have different fears and triggers.
Mental disorder is often caused by a combination of biological, social and psychological causes. No two brains are ever alike even if they are twins. Hence, while some people may respond better to psychotherapy, medication may work better for others.
Even though two people may go through the same traumatic experience, they may interpret the experience differently and hence have different response to that incident. Hence, no two person's mental disorder will be exactly the same.
From discovery to recovery
Whether it is a Psychiatrist or a Psychotherapist, recovery takes time, patience and commitment to continue with the process.
We are relieved that our beloved Beomhan continued to take action to help himself, despite the discomfort of seeking help. We are also so glad that the prescription is helping him feel better.
"I take it when I go to sleep and I take it when I wake up and I feel good."
More importantly, we are grateful that he is choosing life.
"The past month has been a little tough and I don't have the heart to do promotions. I've been fighting the big D word, I can't go yet, I'm still not finished."
We believe in you, just as Beomhan sang in his pre-debut MV 'Sun's Up', "our sun will always come out".
If you are struggling with suicidal thoughts please get help immediately
Please choose life. Never belief that anyone wants to die. Please read this article if you are waiting to get help. We just want an end to our problems and fears. There are people who can help us.
If you have a friend who you think may be thinking of suicide, please click here and read this article.
If you have a friend who is harming themselves, click here to find out what you can do
Understand more about Depression here
Understand more about Trauma here
Here's where you can get find someone to listen and help you.