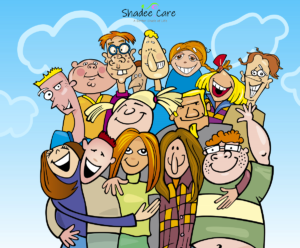 Some quick guidelines:
The group chats here are meant to support each other as we journey through life. We want to build a space that is affirming, validating and where everyone can feel encouraged.
You will need to sign up as a member for the use of this chat. So please use a nickname if you want to maintain privacy and confidentiality
As you engage in the chat please keep a positive attitude towards all users and respect everybody. Please behave in a manner that you want others to behave toward you.
The comments here can come from different individuals, so please weigh every bit of information and accept only those that helps you and fits the situation that you are in.
This chat is not therapy and is not meant to provide professional counselling advise. Please come to this helpline ( https://shadee.care/helplines/) if you need therapy and professional advise.
We want to build a community where we look out for each other. If you notice that someone is suggesting harming themselves please encourage them to call these numbers. If you have thoughts to harm yourself, please call these 24 hour numbers immediately:
Samaritans of Singapore                                          1800-221 4444
Institute of Mental Health                                       6389 2222
Com Care/ National Family Service Centre         1800 222 0000
As some participants in this chat may be experiencing difficult life situations, please be mindful that some people may be sensitive to certain comments. Please do not make lite of any person's dilemma no matter how small or insignificant. Please be considerate and mindful of other participants feelings on this chat.
If you find that someone is not keeping to the rules and behaving in a manner that is causing distress to other users, kindly report the incident by going into your account and emailing to ShadeeCare.
The chats are meant to be age appropriate. If you are not within the suggested age group please find a chat it is appropriate for you. If you are below the age of 14, please get permission from your parents and fill up all information of your legal guardian in your account.
Be sure to read the rules and precautions listed below before you start on the chats. Please ensure that you follow all the rules listed below as you chat.
Once you start on the chat, you would have agreed to the following rules
You will not partake in bullying of any kind. This includes threats, doxxing of private information, distribution of other members private information or images. We take bullying and threats seriously and all parties involved in such will be dealt with severely. Please stand up against cyberbullying and be supportive of each other.
Do not share social media information, profile information, usernames, handles or links on any chat, posts or in your bio account. This includes not "asking for socials". You may talk about something that happened on socials, but please be kind with your comments. You will want others to be kind to you as well.
Do NOT joke about other member's physical features, attributes, lifestyle choices and status, personal beliefs and religion, or anything that can be deemed as offensive and consider it a personal attack. If you 'joke' to such an extreme, you will most likely be banned.
Do NOT post / talk about sexual topics as some members may find this offensive. So do not discuss extreme sexual topics including sexual fetishes, age play, sub/dom, incest, necrophilia, paedophilia and so forth. Paedophiles and any form of action that can be deemed as sexual grooming will be reported to the police.
Do NOT catfish. If you claim to be any famous person (celebrity or social influencer) you will need to verify this with the admin by messaging the admin from your verified profile account. This way we can ensure any "famous" faces are real. If you have someone's picture and it's a fan situation, in your bio you must have the words "pfp is not me, it is (celeb name), I'm using it as I am a fan". If you do not you will be removed from the chat. If you are using a random image of a person from google, please say so. If the person you are claiming to be is proven not to be you, you will be banned. Catfishing is not tolerated in any form here.
This chat is predominately for English speaking users.
These chats should not be used for scams, solicit business or any form of transaction. Do not ask for or offer money for any purpose including but not limited to, nudes, sugar daddy/mommy/baby, or any other reason. You will be banned from the site and reported to the police if your actions are deemed to be prohibited in the eyes of the law.
Do not share accounts, passwords or allow someone else to log in on your behalf. Any persons caught sharing accounts will be dealt with, this is for all parties sharing accounts.
Do NOT make false accusations / allegations that cannot be verified by proof. The person making false accusations / allegations will be dealt with.
Do NOT "fake" or "create" screenshots. All information on the chat server can be verified by logs. If you submit fake screenshots to get someone punished or banned, you will be banned.
Do NOT make any false report on comments made by any other users.
Do NOT participate in "age play" or "Littles" – this is not appropriate behavior and will result in your account being instantly banned. This includes "age regression".
Do not post profile pictures or any images in skimpy clothing including male torsos with no shirt – this is not a sex / hook up chat, so only clothed profile pictures will be allowed. No headless abs pics, no shirtless guy pics, no girls in "bras" or thongs. If your profile pic is removed, do not put it back up. Furthermore, profile pictures must not contain under aged persons.
Please do NOT post pictures that are gory, defamatory or provoking. Do not post photo's of people or animals that are gory and bloody; or images that are provoking and defamatory of any individual, religions, political ideologies and so forth.
Banned Words. You may NOT use these words or any derivative of, in the chats. Including all variations of racial, religious, political, gender and homophobic slurs.
Pictures of children (babies) that are clearly under the age of 14, will not be allowed to be posted on this chat including pictures of your siblings, relatives or friends. Do not post any picture of a child (yours or not) to any chat related area.
Do NOT mini-mod while mods (or admin) are present. If there are no mods online you may inform other users of rules they are breaking but do not push it. If a mod is present and you mini mod you may be removed for it if you don't stop when asked to.
Do NOT discuss or talk about suicide or related topics such as self-harm. This includes posting images of suicide, self-harm or any act where a life is harmed. We will have to remove discussion and images of cutting, self-harm or wanting to die in order to be mindful of Users who may be not be able to handle this topic. . If you have any thoughts of harming yourself, please call a 24 helpline. https://shadee.care/helplines/
Every life is precious. Please do not promise confidentiality if someone tells you that they have plans to harm someone or end their life. We do not promise confidentiality for any situation that suggest harm to self or to another person. Should there be such a critical situation identified, we will do what is ethical by reporting the member to the rightful authorities without further notice.
You also must NOT tell any User to kill themself (kys), suggest ways to harm themselves or any derivatives thereof. Suggesting suicide or self-harm actions to another person is a criminal offence and we will have to report such actions to the authorities.
If you hear of someone suggesting any plans that may harm another person or cause danger to society, please report it.
These are chat where we hope would provide emotional support to everyone in it. Please be discerning about the comments made by the participants and only take those advise if it suits you and your situation. These are not professional therapy sessions and the participants here will not be able to assist you appropriately if your condition requires professional help. Please look for group chat with suitably trained personals if you need professional support.
Mental conditions do get better if you seek professional help early. If you are experiencing mental health issues, we advise you to seek the help of a trained and qualified mental healthcare worker or call these helplines. https://shadee.care/helplines/
You must also not provide counselling to other users about any medical or mental health topic unless you are are officially assigned by ShadeeCare to do so.
You are NOT allowed to post any external links. The only exception to this are the following links; YouTube, Spotify and soundcloud. With YouTube and soundcloud you may not post your own channel or page to promote it.
As much as we want to promote self-love and self-confidence, shameless Self Promotion is NOT allowed, this includes begging for followers, asking people to like or subscribe to your social media, YouTube channel etc.
You are allowed to operate one account only. Alternate accounts and other accounts are not allowed. This is even more serious if you have different accounts of different ages and genders.
No game links, codes or requests to play a game are to be posted anywhere on this website. This also includes not sharing gamer tags for online platforms.
Please note, your access rights to the Care Chats are a privilege not a right.
By entering these Care Chats you agree to abide by all rules as stated here.
If you are under 14, you must seek the consent of your parent or guardian and fill in all the necessary information on the sign-up form.
You are responsible for all actions on your account, including actions made by others. Legal action will be taken if such action is deemed to prohibitive in the eyes of the law. Failure to report a user that is breaking major rules will also affect your account.
You will not always get a warning for breaking the rules. We may just have to remove your account and take the necessary actions to ensure that this site is safe and pleasant for every user.
We may have to shut down this chat without warning if we feel that it is not going the way that it is suppose to and to ensure the safety and well-being of all users.
Please follow these rules and we will build an awesome community for everyone.