If you are feeling suicidal now, please just give me 5 minutes and read this:
It's totally normal to feel overwhelmed and stressed if you're going through a tough time, and sometimes it can feel like things will never get better. Many people who feel trapped and overwhelmed consider ending it all by ending their lives. If you're thinking of suicide because you can't think of any other way out, please know that you want an end to your problems, you don't want to end your life. Many who didn't go through with suicide find that those painful feelings go away after a while.
Please read this:
Postpone any decision to end your life for 24 hours.
Use this time to talk to someone you can trust and find help. There are people who do care.
Seek help immediately
Talk to someone about how you are feeling, a trusted friend, family, local doctor or call a helpline. If your attempts to talk to someone does not turn out quite so well, please keep trying, b'cos you will find someone who does care and you will find help for your problem.
Avoid being alone
Have someone stay with you until the thoughts go away. This is especially important if it is at night.  If that person can't be there, talk over the phone or call a 24-hour crisis line.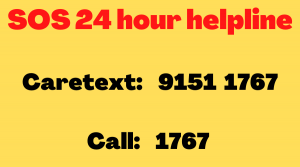 Avoid drugs and alcohol.
Alcohol or drugs may give you very short-term temporary relief but will make you loose control once it kicks in. You need to be thinking straight in times like these.
Develop a Safety Plan
Everyone who is going through a tough time and having suicidal thoughts should have a plan to manage the suicidal thoughts. There are many apps that can help you make a safety plan but bear in mind the emergency hotlines may not be your country of residence.
Here are some quick points adapted from StayingSafe.net
Create your Choose Life Safety Plan here
Give the plan to the people who can support you in a crisis
Please find a few trusted and sensible people who can be there for you when you get suicidal thoughts. Give them a copy of your suicide plan and inform them that you will need them to help you in a crisis. Do make sure you have their numbers written in your Choose life Safety Plan. These people can then remind you of all the different ways to choose life in a crisis.
Write down how you feel
Writing your thoughts down and naming your emotions will help to give you a visual picture of what the problem is and can help you to think more clearly about the real issues.
Challenge your thoughts
Suicidal thoughts are like any other thoughts. You don't have to accept all the thoughts that come into your head. You don't have to follow through every thought that comes to you. Suicidal thoughts are like any other bad thoughts, they will go away after some time. When someone is experiencing suicidal thoughts, they might be feeling that no one cares, or that others would be better off without them. This is never true. Think of what you would say to a friend with these same thoughts.
Reasons to live
Though things may seem hopeless at the moment, please think of what has been keeping you alive all this while. What is still important to you; what else do you still want to do in life; what can still change in your situation; what other solutions that you have not yet thought of?
Set small goals
We often feel overwhelmed when the problem seems too big to handle. Do only what YOU can handle. Find bite sized things that you can do and set small goals. You need to feel in control. Write down these small goals and tick them off when you've achieved them no matter how long it takes.
Please work on your safety plan.
Give yourself time
Choose life and cling on to hope.
Please stay.
Images from Pixabay
This content is provided on an "as is" basis. While we take measures to ensure accuracy, we do not guarantee the most recent findings. The information on this website does not replace, professional medical, psychological, therapeutic, counselling, diagnosis, treatment, or legal advice. Always consult with qualified professional regarding your mental health.